Dansen in Het Park (Dancing in The Park) offers weekly dance improvisation classes in the Summer on Monday evening from 19:30 - 21:00 in Het Park at the Euromast taught by dance improvisation teachers. The first class of 2021 was on 5 July; the last one was on 30 August.
These are single classes. You can register and join per week. You do not need to have experience with dance or dance improvisation. This is suitable for everybody!
The costs are 10 euros per person. We ask you to pay with a Tikkie or a bank transfer. After your registration you will receive a message with explanation. If digital payment is really not possible, then we will find a solution in consultation.
In very bad weather and with far too few participants, we will have to cancel, unfortunately. Of course we do this as well in advance as possible, so that you will not go out for nothing, and you will get your money back in that case.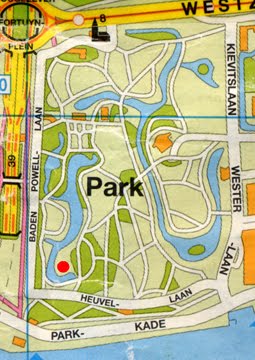 The location is at the red dot at the bottom left of the map, to the southwest of The Park, between the trees and the pond near the corner Baden Powelllaan-Heuvellaan.
Of course we want to do this completely corona-responsibly. We are above all very happy that it is possible to dance again. That's why we ask you your cooperation:
please arrive on time, preferably 5-10 minutes in advance: if it is too crowded at the intended place, then we walk together to a calm spot. If you are late, it is more difficult hook up again
abide by government directions and rules against corona
we dance at least 1.5 meters away, but prefer to give each other even more space
no physical contact, so no dance in duets and trios
eye contact and remote interaction is of course possible, and fun!
also keep sufficient distance on arrival and on departure
do you want to provide tissues and your own bottle of hand gel or soap?
a face mask is allowed, but not necessary
take precautions if you have hay fever or may have allergic reactions: for example face mask, anti-histamine and / or extra large distance
participation is only possible after registration in advance: there is no point in coming to class without registering.
Practical tips and recommendations:
there is no toilet and no water supply nearby
so it's nice to have your own water bottle and to take other preparations
soft, easy-fitting and well-covering clothes dance best
it can get chilly and may rain lightly: warm clothes and possibly a blanket are useful
dancing barefoot is possible, but it can be nice if you have spare sports shoes or dance shoes with you. The grass can be dirty and cold or wet and there may be some goose dirt. At the beginning of the lesson we clean the worst together, so that there is nothing sharp.
you might like to bring some mosquito repellents, especially if you're sensitive to bites of insects